Our motto is "PEACEFUL, PRIVATE, PERFECT," and our goal is to turn that motto into a reality for every one of our visitors. Whether you need a respite from the hustle and bustle of everyday life and stresses, or are looking for a romantic get-a-way surrounded by the beauty of nature, Alpine Cabins is the perfect choice for your Mountain Vacaton.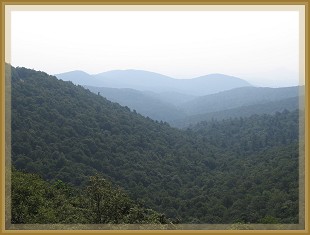 Owned and operated by Kellywood Cabins, these seven spacious cabins sit on seven private acres in the beautiful Trackrock Valley area of Blairsville, GA, in the North Georgia Blue Ridge Mountains. Just a few short minutes away is Brasstown Bald, the highest mountain in Georgia at 4784 feet. Located less than two hours from Atlanta, over 50% of Union County is within the Chattahoochee National Forest.
We keep current a book in each cabin that describes in detail many of the area's attractions, includes several area maps, and has full menus of restaurants in and around Blairsville GA.  And of course, stop in the office anytime for more information and/or directions to the destinations of your choice.  While there, take advantage of our wireless Internet access, or choose a movie, book, or board game to enjoy at no charge.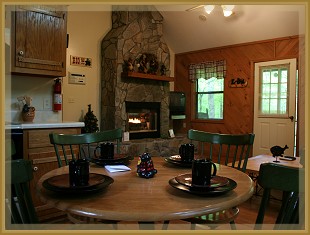 All our cabins boast Jacuzzi tubs, fireplaces, private covered porches, fully equipped kitchens, Satellite TV/Radio, VCR/DVD players, barbeque grills, and fabulous cathedral ceilings. There is also a picnic pavilion and open fire pit area that is nestled in among the trees, offering a great gathering spot for family, friends, or church reunion groups.
Brasstown Bald, the Appalachian Trail, Chattahoochee National Forest, state parks, countless waterfalls, pristine lakes, hiking, fishing, tubing, swimming, cycling, horseback riding, golfing, and scenic mountain drives are all located nearby and offer our visitors the opportunity to appreciate Mother Nature at her finest.
Enjoy the many annual festivals that are unique to our area such as the Sorghum Festival, Scottish Festival and Highland Games, Bluegrass Festival, Butternut Creek Festival, Heritage Festival, Indian Summer Festival, John C. Campbell Folk School Fall Festival and Craft Auctions, Georgia Mountain Fair, Wildflower Festival, Rhododendron Festival, Fall Festival, Oktoberfest , Arts in the Park, to name just a few.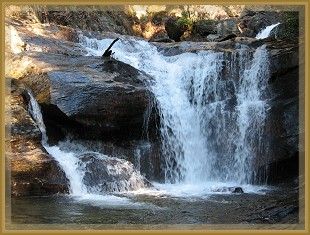 Whether you want to take in the amazing fall foliage, ward off the summer heat by frolicking in the nearby lakes and streams, enjoy the awesome spring mountain blossoms, or play in the snow on a peaceful winter day, this is the get-a-way mountain vacation for you!
A favorite place for romantic honeymoon retreats, unlimited mountain adventures, rest and relaxation, or the location for family, friends, or church group reunions, Alpine Cabins is guaranteed to please even the most discriminating traveler.